About The Ensembles
Young people in school Years 7–9 collaborate with professional theatre makers to take ownership of their craft.
Run on a semester basis, young artists work with a professional Workshop Artist on a weekly program that concludes with an end of semester performance for family and friends.
Explore and practice many and varied performance styles.
Build techniques in acting, script analysis and character development.
Develop stagecraft through improvisation, devising, voice, and movement.
Hone creative voice and self expression.
Become confident theatre makers.
Collaborate to devise an original piece of theatre.
Perform for family and friends at the end of semester.
Our Ensembles are delivered in line with government social distancing requirements and our COVIDsafe plan.
Enrolments are open until week 3 each semester.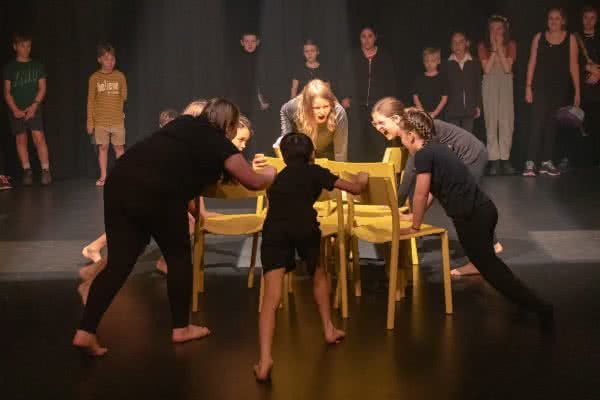 Enrolments for our Ensembles are on a semester basis.
---
Stay In The Loop
Want to be the first to know when enrolments open each semester?
Connect with us via email or social to get the latest announcements.
---
Access For All
We are proud to work with a number of organisations, including ACT Together, CREATE Foundation, Canberra Refugee Support and The Companion House to offer scholarships for our workshop programs.
We also offer open scholarships to individuals and families in the Canberra Region.
If you are experiencing financial difficulties please contact our office and see our FAQs for more information.
---
Years 7–9 Ensembles For 2022
---
Braddon
Meet Your Workshop Artists
Get The Details
WHO
School Years 7–9
WHEN
Thursdays 4:30–6:30pm (*excluding public holidays)

Term 3: Thursday 21 July – Thursday 22 September
Term 4: Thursday 13 October – Thursday 1 December
WHERE
Gorman Arts Centre, Braddon
COST
Total per semester:
Full Payment — $670
Split Payments — $345 + $335
Enrol Today
Semester 2 enrolments for the Years 7–9 Ensemble — Braddon are now open!
---
Belconnen
Meet Your Workshop Artist
Get The Details
WHO
School Years 7–9
WHEN
Wednesdays 4:30–6:30pm (*excluding public holidays)

Term 3: Wednesday 20 July – Wednesday 21 September
Term 4: Wednesday 12 October – Wednesday 30 November
WHERE
Dance Studio, Belconnen Arts Centre
COST
Total per semester:
Full Payment — $670
Split Payments — $345 + $335
Enrol Today
---
Gungahlin
Meet Your Workshop Artist
Get The Details
WHO
School Years 7–9
WHEN
Fridays 4:30–6:30pm (*excluding public holidays)

Term 3: Friday 22 July – Friday 23 September
Term 4: Friday 14 October – Friday 2 December
WHERE
Drama Room, Gold Creek School
COST
Total per semester:
Full Payment — $670
Split Payments — $345 + $335
Enrol Today
Queanbeyan
Meet Your Workshop Artist
WHO
School Years 7–9
WHEN
TBC 4:30–6:30pm (*excluding public holidays)

Term 3: Friday 22 July – Friday 23 September
Term 4: Friday 14 October – Friday 2 December
WHERE
Exhibition Space, The Q
COST
Total per semester:
Full Payment — $670
Split Payments — $345 + $335
Enrol Today
---