CHRISTOPHER SAMUEL CARROLL
Christopher Samuel Carroll is an Irish theatre-artist, trained at The Samuel Beckett Centre, Trinity College Dublin, and Ecole Internationale du Theatre Jacques Lecoq, Paris. As an actor, he has worked with companies all over Ireland, and as artistic director of Bare Witness Theatre Company, creates physical theatre in ensembles and as a solo performer. Described as "the master of the solo performance" (Canberra Critics' Circle), Christopher has built a reputation as a daring and skilled creator of one-man shows. His Butoh adaptation of Paradise Lost, described as "a culturally shattering event" (City News), was developed during a five-week residency at Belconnen Arts Centre, before touring to the Adelaide Fringe and to Perth, where it was nominated for The West Australian Arts Editor Award and shortlisted for the Best Theatre award at Fringe World 2017. His wordless physical odyssey, Icarus, debuted at The Blue Room, Perth, with the support of artsACT, winning the Fringe World overall award for Dance and Physical Theatre, before returning for a critically acclaimed season at The Street Theatre in February 2019. Since moving to Canberra in 2016, he has become one of the city's most prolific and celebrated performers. In 2019, Christopher was the recipient of the inaugural Helen Tsongas award for Excellence in Acting, for his roles in Twelfth Night, Icarus, Howie the Rookie, and Metamorphosis.
CLAIRE HOLLAND
Claire is a theatre practitioner and arts professional. Claire's recent experience includes being the Artistic Director of the National University Theatre Society in 2019, directing a production of Noises Off and producing and performing in a range of shows including the ANU Arts Revue, ANU Women's Revue and the Musical Theatre Company production of Dogfight. Claire has also branched into the independent theatre realm working as Assistant Director on The Experts with ShopFront Arts Co-Op, Assistant Director on SALT from the House That Dan Built and Production Assistant on Two Twenty Somethings… from Bite Productions for the Melbourne Fringe. Claire has completed her undergraduate degree at the Australian National University and is working for Canberra International Music Festival as Marketing Coordinator. She is also 2020 Resident Artist with Canberra Youth Theatre. 
VICTORIA HOPKINS
Victoria 'Fi' Hopkins a unique artist in her own right, both as Actor and Costume Designer. Coming full circle now as Director and Coach. Hopkins currently resides in our Nations Capital yet has worked predominantly in Europe, UK to LA. Career highlights range from Canadian-Czech TV series 'Clays POV', Horror Cult Classic 'Doghouse' to psychological thriller 'A Landscape of Lies'. Hopkins laid it at all bare in David Atfield's controversial play 'Exclusion' at The Street Theatre back in 2018. Her current focus is with feature film 'The Last Train' by internationally acclaimed author Natasha Astuto. Close to home Hopkins has costume designed predominantly full scale outdoor Shakespeare productions with the likes of Sport for Jove and Lakespeare. Furthermore Starring in and Costume Designer for Sanguineti Media Indie Feature Film 'The Nightmare of Alice'. Hopkins brings in 2021 as Costume Designer for Opening season the National Opera's La Clemenza Di Tito. Keeping it reel! Now heading up her own screen acting classes 'Beyond the Lens' training through LAs top acting coach Ivana Chubbuck studios. Victoria is extremely excited to continue to bring her skills and experience to the young artists of Canberra Youth Theatre at Film Plus Studios. 
ANNA JOHNSTONE
Anna spent nearly nine years in the United Kingdom where she worked for the Theatre Royal Bath and the egg, children's theatre, in a variety of roles from youth theatre tutor to director. In 2009 she was appointed the position of Trainee Theatre and Education Practitioner a full time Arts Council funded position that saw her work alongside and in collaboration with UK's award-winning theatre companies, such as The Royal Shakespeare Company (RSC), Pins and Needles Productions and Bristol Old Vic Theatre School. 2015 saw her gaining the position of Associate Artist at the egg theatre, where she learned about and practised the devising process, working alongside and under the instruction of many award-winning theatre makers such as Sally Cookson, Amy Leech, and Emma Earle. In 2017, she created and directed a site-specific piece for Canberra Youth Theatre's I'm me festival. In 2018 she Co-directed Filtered for CYT's young company, in 2019 created and presented another original work for I'm Me Festival at Gorman Arts Centre and Co-directed Possibility for the CYT's teen ensemble.
CATHY PETOCZ
Cathy Petőcz is a Canberra-based theatre practitioner – a playwright, director, performer, and producer. Cathy writes many different kinds of performance works: plays (Unbecoming, Canberra Theatre Centre, 2019), experimental performance (Are You There God? It's Me, Margaret, Melbourne's Emerging Writers Festival, 2014), and recently an interactive game-based performance for the Museum of Australian Democracy (We, the People, Old Parliament House, 2019). Cathy's work with young people is an important part of her artistic practice. She has made theatre with young artists at Canberra Youth Theatre for over ten years, including directing digital puppetry play Insomniac Attack (2014) and mentoring the emerging playwrights who wrote Possibility (2019). She is currently working on a screenplay adaptation of her surreal mother-daughter drama Hired Mother, a reimagined Lysistrata (after Aristophanes), and an experimental apocalyptic opera about mushrooms.
Mirjana began her professional acting and teaching careers at just 18 years of age, performing in Sydney's Sidetrack Theatre's acclaimed production of 'Adios Cha Cha' which went on to tour the nation, and teaching children's programs for the Sydney Performing Arts Centre. Mirjana graduated from the Victorian College of the Arts in 1991, after which she taught, directed, produced, and created original works in a range of schools and theatre companies around Australia. In 2003 Mirjana established her own theatre company, film school and performance centre, the Queensland Actors' Playhouse ("QAP"), which she ran for 16 years. Students from QAP have gone on to perform and work all over the world, from lead roles with the BBC to major Hollywood movies, as award winning feature filmmakers and theatre practitioners, fronting top selling Australian bands, and in comedy and stand up from Melbourne to Iceland! Over 100 of Mirjana's students also went on to be accepted into Australia's major drama schools and universities including NIDA, VCA, WAAPA and QUT. Over the several decades that Mirjana has been working with adults and children in theatre she has developed a range of techniques that develop both the actor and the person. Mirjana is looking forward to bringing to the Canberra Youth Theatre her passion for creating safe yet challenging environments in which young people can be nurtured, empowered and inspired.
MARTHA RUSSELL
Martha is a Canberra born and raised artist who grew up working with Canberra Youth Theatre and other local performing arts groups. In 2020 she completed a Diploma of Acting at the Western Australian Academy of Performing Arts in Perth. She has previously worked with primary-aged students in an after school care environment, and is now combining this work with her passion for performance and creating. 2021 will be Martha's first year as a Workshop Artist with Canberra Youth Theatre.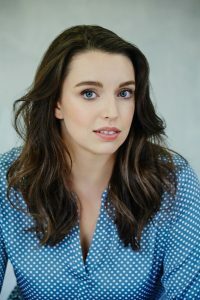 NATASHA VICKERY
Natasha is an actor and musical theatre performer. In Sydney Natasha worked with Pinchgut Opera Company in their production of Dioclesian and with Bob Ellis in The Word Before Shakespeare. She was one of ten to win a place in the Young Playwrights' Residency in 2009. She completed her acting training at the Western Australian Academy of Performing Arts, graduating in 2017. At WAAPA her credits included Twelfth Night, Present Laughter and The Threepenny Opera. She travelled to Glasgow to film the WA Screen Academy's coproduction with the Royal Conservatoire of Scotland, Longlost. She was also the recipient of the Whiddon International Artist Scholarship. In 2018 she completed the MEAA/Media Super graduate internship on the set of ABC's Back in Very Small Business. She played Emma Goldman in Sondheim's Assassins for Black Swan State Theatre Company and Sonya in Dostoyevsky's Crime and Punishment. In 2019 she went on to teach for Sport For Jove in their Shakespeare education program. Since being in Canberra, Natasha has performed in multiple productions including the tour of Playhouse Creatures (Pigeonhole Theatre), Belfast Girls (Echo Theatre & The Q) and Wolf Lullaby (Echo Theatre & The Q).