What Is Workshops By Design?
Our Workshops By Design offer students a practical experience of drama, performance and theatre making within the school environment.
These custom-designed workshops bring a professional theatre artist to your school to enliven and engage your students across a range of techniques and performance areas.
Collaborative, challenging and creative curriculum-focused workshops.
Programs designed specifically for primary and secondary curriculum topics.
Specialist and experienced Workshop Artists available across the Canberra region.
Choose from our available programs or have us design a custom program to meet your curriculum needs.
Delivered in a location that suits you: at your school; at Gorman Arts Centre in Braddon; or digitally via live-stream direct to your classroom.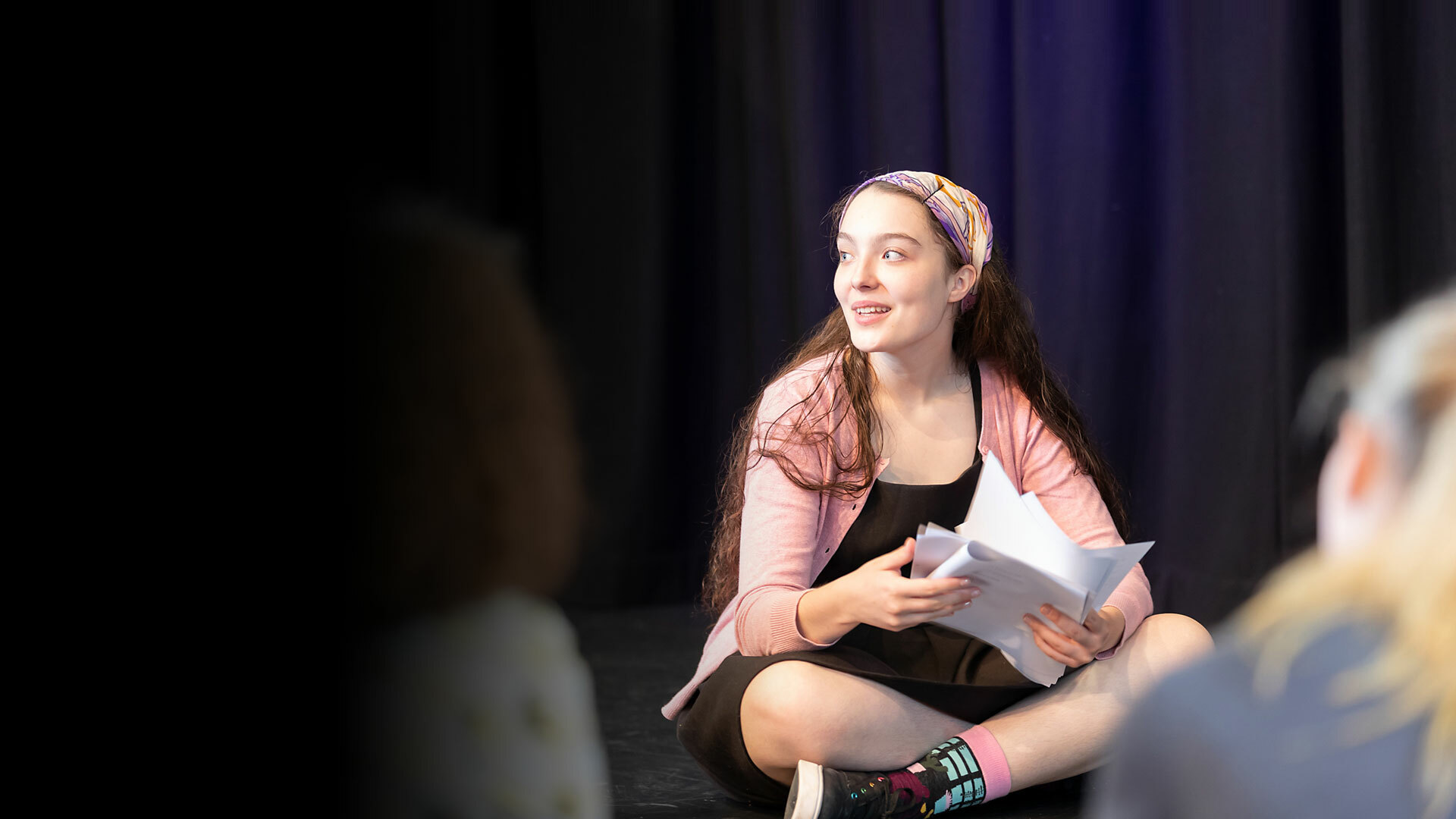 Engage your students with a professionally designed workshop experience.
---
Stay In The Loop
Want to be the first to know when new programs are released?
Connect with us via email or social to get the latest updates.
---
Workshops By Design Programs for 2022
---
Enquire Today
Click the button to complete our enquiry form.
We will email you to confirm your program details.
---
Primary School Programs
Creating Characters
Transforming into different characters is at the heart of drama – it's also the part that's the most fun! This workshop invites students to bring their imagination to life by developing their very own characters, learning how our voices, bodies and mannerisms tell the story of who we are. Through a range of exciting practical exercises, participants will explore movement, voice, and relationships, all while building confidence, working together, and finding their creative voice.
Creative Play and Storytelling
Empower your students through story. Building on participants' innate creativity, this workshop uses storytelling as a vehicle to explore the elements of drama. Students will engage their body and voice to express their imagination, and collaborate as a group to bring their stories to the stage. Led by a creative professional, this workshop teaches students how to work together to tell stories that communicate their ideas and experiences.
Devising and Playbuilding
From a spark of inspiration to an inspirational performance, this workshop invites students to turn their ideas into reality. Working with a range of improvisational and collaborative techniques, students will use the elements of drama to devise and perform their own work. Participants will be encouraged to think outside the box, exploring different performance styles to create an exciting piece of theatre they can call their own.
Improvisation
Expect the unexpected! This workshop introduces students to the principles of drama through improvisation and creative play. Led by an experienced professional, students will engage in fun and fast-paced improvisation games that encourage them to be spontaneous, connect with others, and leap before they look. In the process, they will discover new skills and techniques to express themselves confidently, explore collaboration and think creatively.
Interpreting and Performing Texts
From page to stage, this workshop gives students the tools to bring words to life. Students will be led in an active approach to engaging with text, forming their own opinions and interpretations, and using it as a stimulus for their own creativity. Working with a range of practical exercises, participants will discover the secrets to decoding the dramatic information in a script and making a story come alive in performance.
Voice and Movement
Children should be seen and heard! In this workshop, students will learn the essentials of voice and movement through creative play and embodied storytelling. Led by an industry professional, this workshop encourages students to explore their bodies and voices in unexpected ways, using them to communicate expressively, creatively and safely.
Drawing from a depth of industry experience, this workshop offers a practical investigation into analysing a script, preparing for each day's rehearsal, taking (and giving) effective notes, and creating the conditions for collaborators to do their best work. Students will be led through the steps involved in directing a production, from the first encounter with a text, through to opening night. In addition, they will be encouraged to articulate their own artistic vision for a work, while still maintaining an openness to the mysterious alchemy of the rehearsal room.
---
Secondary School Programs
Australian Theatre
Students will explore the works of some of Australia's leading playwrights that explore the evolving identities, cultures and ideas in Australian society. This program will look at a range of theatrical techniques and dramatic conventions used by Australian theatre practitioners, both historical and developing, to explore how theatre continues to shape and reflect values and attitudes of Australian society. This program can be tailored to focus on specific texts being studied at school.
Comedy
From Commedia dell'Arte to stand-up, melodrama to the TV sit-com, this practical workshop will expose students to the many facets of comedy in performance. Students will experiment with a range of theatrical styles and comic techniques such as farce, satire, status and comic timing. This workshop will explore the actor-audience relationship of performing comedy, look at different comic scripts, styles and practitioners, and give students the skills and confidence to create their own comedy performances.
Design for Performance
This workshop takes a practical approach to principles of stage design. Students will discover the possibilities of design for the stage through script analysis, hands-on experimentation, and creative collaboration. Drawing on elements of lighting, sound, set, costume, and props, students will develop an appreciation for the impact of visual dramaturgies on stage and gain the practical knowledge to incorporate them in their work. Participants will come away with a holistic understanding of theatre as an expressive medium, and how the full range of design tools can be utilised to construct meaning, impact an audience and make visible the invisible.
Devising an Ensemble Production
In this workshop, students will be guided through a range of creative approaches to group devising, from generating the first ideas for a piece, to developing a work for performance. Students will improvise, interpret, and experiment with a range of play-building and rehearsal techniques. In a series of playful group tasks, they will be encouraged to discover their own artistic voices, and given the tools to structure their visions for the stage. Grounded in contemporary industry practice and drawing from a range of traditions, this program can be tailored to include specific practitioners including, but not limited to: Jacques Lecoq, Augusto Boal, and Anne Bogart.
Creating a Theatre Production
From idea to opening night, this workshop empowers students to turn their creative concepts into an actionable production plan. Working with Artistic Director Luke Rogers, participants will gain the insights and tools to make a show happen. Working with the creative impulses of your students, this practical workshop outlines the elements of production from creative vision to realisation. Drawing on industry practice, students will explore principles for building creative teams, mapping a production timeline, and how to smoothly and successfully bring a show to life.
Directing
This workshop offers students an insight into the multifaceted role of the director. A director's responsibilities touch on all aspects of the theatre-making process, from the actor's performance, to sound, lighting and set design, to managing a company of artists. A director must be able to communicate effectively across all these areas in order to lead a creative process and forge a cohesive work of art which maximises the potential of everyone involved.
Drawing from a depth of industry experience, this workshop offers a practical investigation into analysing a script, preparing for each day's rehearsal, taking (and giving) effective notes, and creating the conditions for collaborators to do their best work. Students will be led through the steps involved in directing a production, from the first encounter with a text, through to opening night. In addition, they will be encouraged to articulate their own artistic vision for a work, while still maintaining an openness to the mysterious alchemy of the rehearsal room.
Monologues and Auditions
This program offers students the opportunity to develop their audition skills, utilising a tool-kit of actor's techniques to perfect their audition monologue. Working from a depth of directing and audition experience, our industry professionals will guide actors through the process of articulating their casting type, selecting monologues, and refining their choices for performance. This workshop will help students understand and demystify the audition process, make strong, active choices within their monologue, and learn to take direction with confidence and spontaneity in the audition process.
Musical Theatre
Based on the principle of 'acting through song', this workshop will explore approaches for creating electrifying musical performances, based on strong vocal technique, emotional expression, and an understanding of the narrative journey of a song. Through a series of practical exercises, students will learn to connect their singing to the emotional truth and characterisation that are the lifeblood of every great musical.
Students will have the opportunity to examine different conventions of musical theatre, from main-stage classics to the subversive contemporary influence of cabaret. Led by an experienced industry professional, this workshop will introduce students to the vocal, movement, and acting skills necessary to develop an engaging musical performance.
Performing Shakespeare
Bring classical text to life in the classroom with this engaging, practice-led workshop. Working with an industry professional, students will be given the tools to build confidence and creativity in approaching Shakespeare's words as a performer. Focusing on practical exercises to embody the heightened language of Elizabethan verse and some of the most unforgettable characters ever written, this workshop offers students a way into the vibrant worlds of Shakespeare's plays, and how to perform them for a contemporary audience.
Physical Theatre
The performer's body is a powerful tool for expression. Drawing on a range of techniques from influential theatre practitioners past and present, this workshop equips students with the physical vocabulary to express themselves through movement. Participants are guided through a series of practical exercises to ignite their imaginations through physical play and improvisation. Exercises will expand the possibilities for expressionistic performance styles, examining how images and language work together to express meaning. Participants will develop physical awareness, skills in collaborative performance making, and physical approaches to devising original work.
Playwriting
This workshop connects students with a professional playwright to uncover the principles of writing for performance. Ideas will be workshopped in a theatrical context, exploring the specific parameters of telling a story for the stage. Learning what the rules of playwriting are, and how to break them, students will develop a scene from idea to first draft in a process that utilises the full resources of the medium. Exploring both traditional and postdramatic approaches to writing for stage, students will refine their understanding of characterisation, dialogue, and action, expanding the imaginative possibilities for what theatre can be.
Screen Acting
Discover the essentials of acting for the screen. Students will build confidence performing to the camera, explore the actor-camera relationship, shoot a scene, watch it back and critically analyse their performance. This program will introduce students to a variety of techniques across a range of genres, such as drama, comedy, commercials and tv presenting. Students will also be introduced to on-set technical skills, such as camera angles, eye-lines and marks, and apply these skills to the unique challenge of acting for the screen in an engaging and supportive environment.
Theatre for Young People
Drawing from extensive professional experience creating theatre for, and with, young people, this workshop offers practical tools for engaging and empowering young people through theatre. Students will explore imaginative approaches to creating performance works specifically for younger audiences, considering the varied challenges and educational aims particular to different age-groups.
Students will explore a range of performative styles, and discover how to build a safe, creative environment that holds space for the unexpected, welcoming in audiences that may be encountering theatre for the very first time. This workshop will look at improvisation techniques for engaging with young audiences, to devise informative, entertaining, educational experiences. We encourage students to strive for ambitious theatre that refuses to underestimate young people: who are often the most demanding, the most honest, and if you get it right, the most rewarding audiences of all.
Tragedy
Tragedy is one of the most fundamental and enduring forms of theatre, forcing us to grapple with the deepest questions about what it means to be human. In this practical performance-based workshop, students will explore the forms, themes, and conventions of tragedy using examples from modern and classical texts. Led by an industry professional, students will gain the tools to engage as performers with the heightened language and profound themes of tragedy, and develop an appreciation of tragedy as a forum for the expression of human values, ideas and social issues.
Verbatim Theatre
A practical workshop that will provide students with tools to create Verbatim Theatre, using current affairs as stimulus for the development of original works, exploring transcripts and audio recordings to create performance. This program investigates elements of Verbatim theatre practices, discusses the creative and social challenges of putting the voices and stories of a community on stage.
Voice and Movement
This workshop offers practical insights into the primary means of expression for the actor: voice and movement. Distilling years of training and professional experience, our industry professionals will help students explore the expressive potential of their body and voice, with exercises that lay a solid foundation of technique to support the freedom of improvisation.
Focusing on an experiential understanding of the actor's 'instrument', this workshop offers tools for expanding breath and body awareness, developing resonance, refining articulation, and empowering students as embodied performers. Students will investigate how our vocal and physical mannerisms express our inner world of thoughts and feelings, forming a unique imprint of character. As we deepen the inseparable connection of body, breath and voice, we will broaden the creative possibilities for the actor and apply these tools in a practical context across different genres of theatre.
---